Top 3 Trends Affecting U.S. Test Preparation Market Through 2021
The top three market trends fueling the test preparation market in the United States through 2021, according to market research firm Technavio, are:
Increasing emphasis on private tutoring;
Rising popularity of benchmark testing; and
Growing mobile learning, or "m-learning."
"The incorporation of innovative education technology solutions is increasing in the test preparation market in the U.S.," said Jhansi Mary, a lead analyst from Technavio who specializes in K–12, in a statement. "The online tutoring market has seen recent developments in the use of intelligent tutoring systems. These systems can directly interact with students without any human interference."
Currently, vendors who provide private tutoring are thriving, according to Technavio. During the present decade, private tutoring has become a robust sector of the U.S. education market, employing thousands of people and generally providing positive results, especially in mathematics and language learning.
Also, benchmark testing — or short tests throughout the school year — has been on the increase. These tests — especially popular in K–12 — allow teachers to obtain immediate feedback on how each student is performing. These tests are frequently done at the end of a study unit or at the end of a quarter. Companies that create state-aligned benchmark tests for schools and districts include 
Edison Schools
 (aka EdisonLearning), 
the Princeton Review
, 
Pearson Education
 and 
ETS
.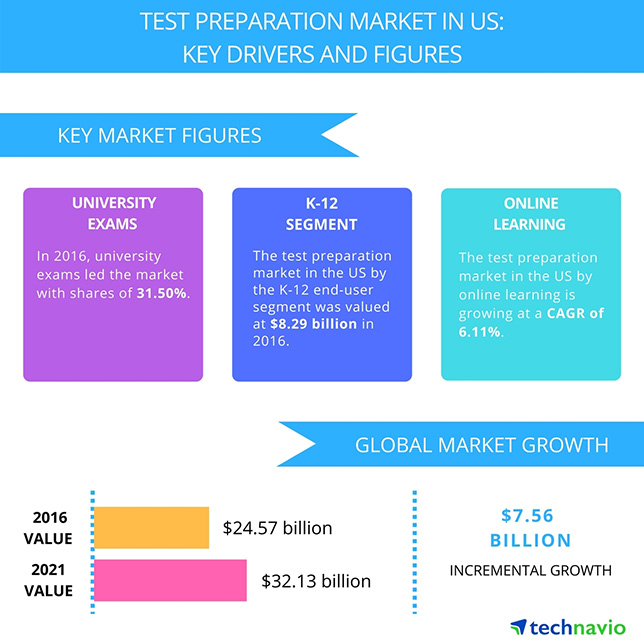 Finally, with the increasing adoption of tablets, mobile phones and other mobile devices, the demand for mobile learning, or "m-learning," has also been on the rise. The United States has already adopted m-learning methods for test preparation and tutoring services. Online tutoring companies such as Pearson Education offer Smartthinking, an online tutoring and writing service, for their students.
"Test preparation vendors are looking for mobile-friendly modes of training that support the m-learning model," Mary said.
Globally, the test prep market is expected to grow $7.56 billion between 2016, when it was valued at $24.57 billion, and 2021, when it is expected to reach $32.13 billion, the Technavio report said.
This report is available at a discounted rate of $1,000 for a limited time. You can view a market snapshot of the report here, and request a free sample report here.